The Pros and Cons of Shower Sex
Don't just live, #LubeLife
It's a three-letter word that carries so much weight: sex. Since the beginning of time, sex has been viewed as an essential part of everyday living. Obviously, without sex, there would be no reproduction but if you look deeper, there are many health benefits to having sex. Shockingly enough, sex can provide benefits that affect a person's physical, mental, emotional, and psychological state.
While many people associate sexual health with safe sex, the physical act of having sex continues to be studied, further validating its importance on several aspects of a person's health.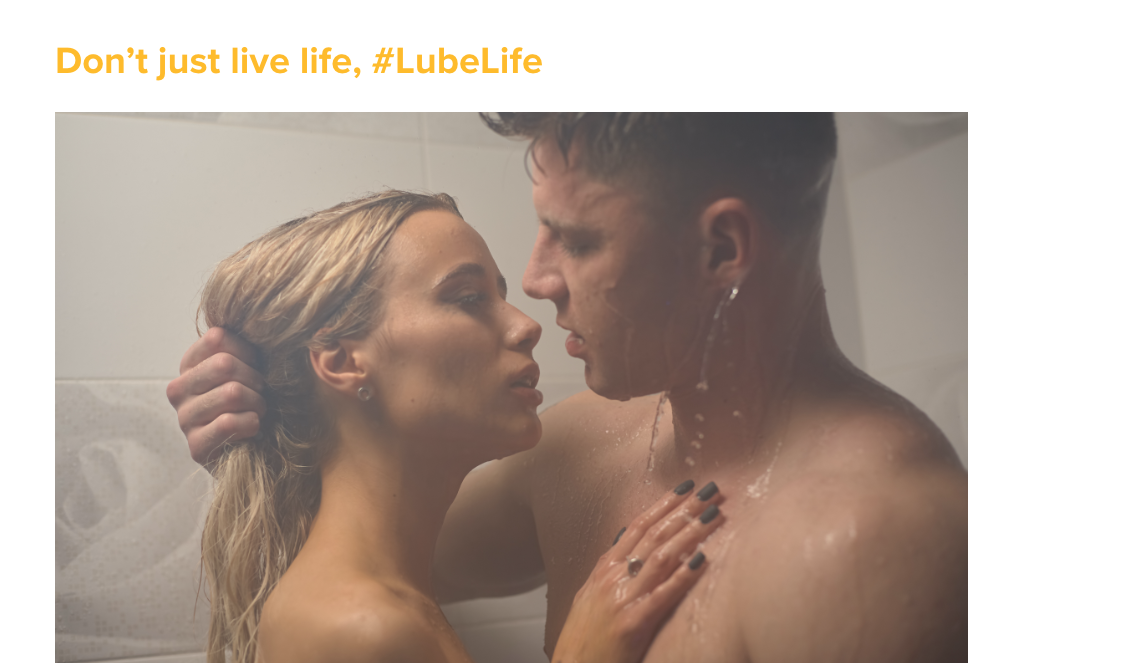 Shower sex is one of those things we all want to do, but few of us do. Porn stars and mainstream movies make it look so effortless, but in reality, it can be a slippery, uncomfortable mess. But why? What are we doing wrong? How can you unleash your inner Sharon Stone and make shower sex something you'll want to do every day? Sure, there are pros and cons to shower sex – as with anything else in life – but our mission today is to show you exactly why the prior outweighs the latter.  
So, before you head to bed for a cliché session of vanilla love-making, grab a coffee first and check this out. First, we'll get the cons out of the way, but remember – on the other side of every potential "problem" is an oh-so-satisfying solution. You'll see what we mean soon enough.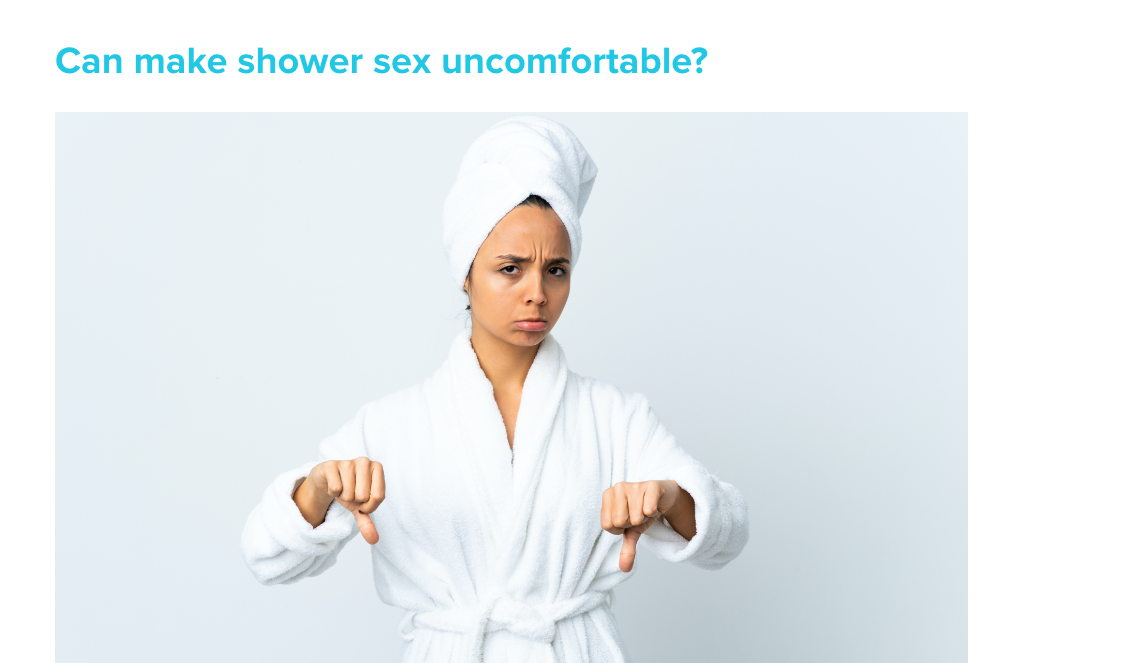 Con #1: "Will it dry me out?"
All that water and heat can dry out a woman's natural lubrication, which can make shower sex uncomfortable or even painful for ladies who don't have an overactive lube factory down under. Water is NOT lube in any way, something a lot of guys don't realize. Using soap to make things more "slippery" can actually make things worse, compromising that beautiful pH balance ladies try so hard to maintain. Thankfully, with the right lube specifically designed for shower sex, you can set your inner Sharon free… 
Con #2: "Is it dangerous?"
We all want to mimic the hottest shower sex scenes of all time, but getting it wrong can be dangerous. But it doesn't have to be! Simply pop a non-slip mat on the floor to keep you both safe and ensure you don't end up spending your night in the ER with a very awkward story to tell… 
Con #3: "What about shower size?"
Small showers are like airplane bathrooms – they just weren't made to have sex in. Well, you can have shitty sex in them, but if you really want to boost your chances of not being traumatized after shower sex, wait until you have access to a bigger shower. After all, how can you enjoy yourself if there's barely enough room to breathe, let alone…engage?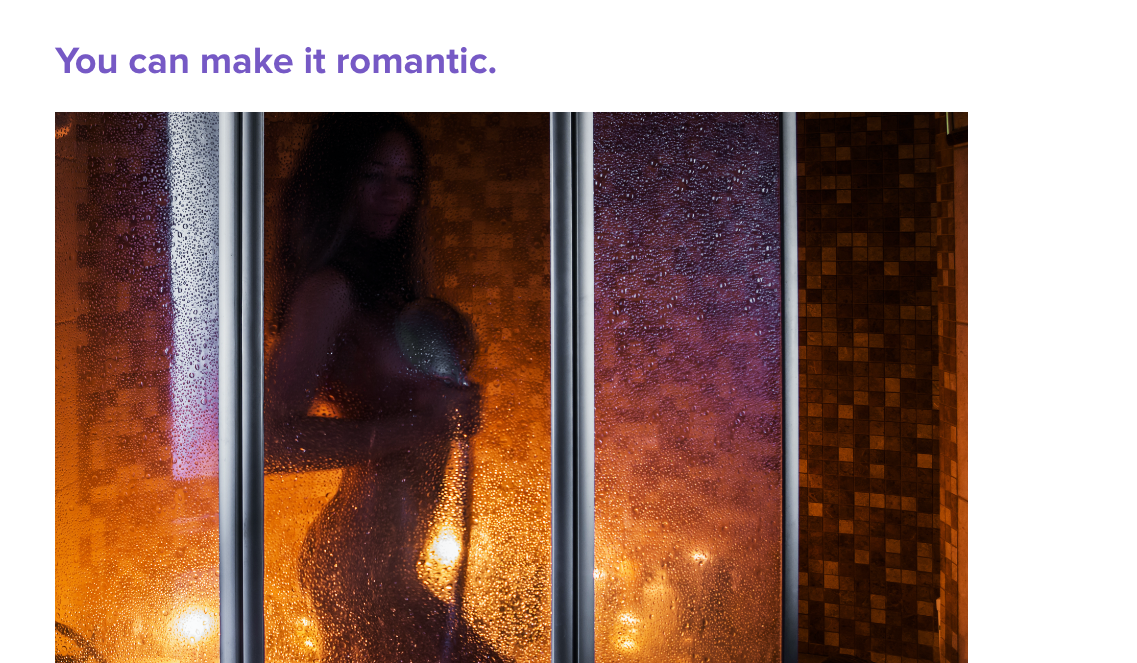 Pro #1: It's easy to clean up
This pretty much speaks for itself. Instead of waiting for your partner to find the nearest towel or roll of toilet paper, you can simply wash off the mess you've made and get on with your day (or night). It's a double-whammy – you'll be left satisfied and squeaky-clean in one fell swoop, so to speak. However, whatever you do, do NOT let your partner…finish on you. Your body, and definitely not your face. For the love of God, not the face. Most of us know how…sticky the male "substance" gets when mixed with water.
Pro #2: It brings you closer together (in more ways than one)
It might seem awkward to strip off while you wait for the water to heat up, but it can actually make it part of the experience. When you're butt naked with your partner in a small and confined space (unless you're one of those rich folk with a shower the size of hotel room), it's hard not to be vulnerable – which can actually bring you closer together. 
Couples who shower together stay together – AND they help the planet stay together too. Shower sex isn't only good for your mood and relationship. Showering together saves more water while giving you a more efficient, ecofriendly, and hella feelgood way to spend time together! 
Pro #4: You can have sex on your period
That's right. If it's that time of the month and you still wanna get down (without so much of the dirty) just head into the shower. You'll be more lubricated than you usually are, and you'll save your towels from ruin. Get as messy as you like and let the shower water wash everything away! 
Pro #5: You can make it romantic
Dim the lights, play some music, and take your time to get more intimate with your partner than you may have been in a long time. You can also make use of a mirror to lustfully look at your lover while you get down and dirty, elevating the mood while making you feel like a sexy goddess. 
Pro #6: You can experiment with positions
No more chilling in bed like a sack of potatoes. Sex in the shower means you can try your hand (and whole body…) at a whole bunch of different positions, from standing-doggy to reverse cow girl, leg wrapping, and so much more. You might even discover a few of your own moves and brag to your friends about it… 
Pro #7: It can spice up your relationship
If you get shower sex right, it could do wonders for your sex life and reignite the old spark. Remember to explore different positions to find the ones you like – just because Sharon Stone makes shower sex look hot in a certain way doesn't mean you have to do the same. Maybe your man isn't strong enough to lift you up, and you're worried you both might end up in the emergency room if he tries. That's OK. Shower sex isn't black and white. It can be whatever you make it. 
---
---